Corporate Profile
Corporate Profile
| | |
| --- | --- |
| Address | 3-15-24 Kawai Aoiku Shizuoka-city Shizuoka 4200923 Japan |
| TEL | +81-(0)54-261-6211 |
| Initiation | 1946 |
| Established | 1957 |
| Capital | 27.75 million yen |
| President | Kimishige Hashido |
| Number of employees | 56 |
| Banking relationship | Seishin Shinkin Bank Kutsunoya Branch・Shimizu Bank Ejiri Branch |
History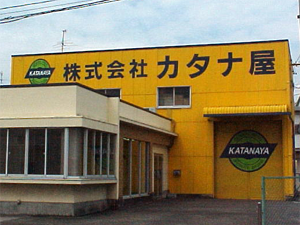 We have been continuing to spread out as the agency of KURE GRINDING WHEEL, joint company of Norton Corporation in US, which is top maker of the world, by high technology and service. This growth is favor of support from all business partner so we really appreciate them.
We served Mishima soldier as a grind monger of sword and edge in wartime at Mishima prefecture. After the war, we started to sell natural grinding stone and devoted to sell cutting and grinding tool with Japanese industry development. In view of the importance of diamond borazon as a future merchandise, we have send employee to Norton Corporation in US and researched this field for the 51 years.
We develop and sell the original special machine tool for borazon wheel. We also sell cutting tool, peripheral equipment and machine tool. As the business expand, we set up the machine engineering department and system development department. In the machine engineering department, we design and manufacture specific machine tool which is different from other company.
In the system development department, production control system and sales management software are developed and system matched to the client's demand is also developed.
| | |
| --- | --- |
| Octorber, 1957 | KATANAYA GRINDING STONE INDUSTRY Limited is established in Shimizu prefecture and became the agency of KURE GRINDING WHEEL Company. |
| December, 1971 | Head office is relocated to KUTSUNOYA, Shizuoka prefecture. |
| July, 1974 | Company name is changed to KATANAYA Co., Ltd as incorporated institution. Became the agency of MITUSBISHI MATERIAL Corporation. |
| November, 1978 | Head office is relocated to KAWAI, Shizuoka prefecture and Shimizu branch is integrated at the same time. |
| 1983 | Set up the Machine-engineering department and start officially to design and manufacture specific machine tool. |
| 1995 | Set up the system development department. Start to develop and sell the production control system and sales management software. |
| 1996 | Set up the life・creative department. Start to sell health-related goods |
| March, 2012 | Establish the factory of jig・exclusive construction Machine in thailand. |
| January, 2014 | Establish the constriction・operation the machinery wokrs products division's assembly plant at minami numagami aoi-ku shizuoka |
| October, 2015 | thailand factory iso9001 certification |
Message from the president
We are now in our 65th year of operation by the favor of support from business partner therefore I would like to extend a big tank-you to them.
We had faced big change of business environment many times in our history but we have taken this change as a chance of challenging the new business and tried to expand our business.
In recent year, politics and economy became unpredictable and Japanese position in the world also became uncertain and unstable. This situation hereafter will continue but we will make best efforts more.
Our philosophy
[Reliable company]
[Mutual-beneficial company with customer]
[Creative company]
[World-class company]
[Company that improve human resource]
All staff will make more effort and push forward with our work with a view to above philosophy so Please support future KATANAYA.
Thanks you very much for your help.
September 2009
President
KIMISHIGE HASHIDO
Basic Policy
[KATANAYA CO.,LTD.]'s catchword is always having challenge sprit for new things ,
and we make effort to provide the goods and servise that customers could be comfortable.
Action Agenda
We always make effort to better of improvement awareness through the 5S method (Seiri,Seiton,Seiso,Seiketsu,Sitsuke).
We take good care of communication with customers , and make effort to better of customer satisfaction.
We play a part as a Stakeholder at local , and purse the attitude that accomplish the social responsibility.
We observe the requested legislation , and make effort to better of company morals to respond as the company trusted from customers.
Description of business
Sales departmentⅠ
Grinding Stone
DIA・CBN tool
Cutting tool
Sale and mail-order of Peripheral Equipment
Sales department Ⅱ & Machine Engineering department
Design, manufacture and sale specialized labor-saving machine
System development department
Sale of production control system and sales management software.
Commissioned development of business application software.
Life creative department
Sale Health & environment-related goods
MINAMI NUMAGAMI FACTORY
PRODUCTION OF THE JIG, EXCLUSIVE WORK MACHINE